Ingredients
1 cup raw goats milk, kefir or for a dairy-free options - coconut kefir.
1 can pure pumpkin puree (make your own using this recipe, or purchase canned - make sure to NOT purchase pumpkin pie filling!)
1 teaspoon cinnamon
Preparation Instructions
If making your own pumpkin puree, start here
Combine all ingredients in a blender, mix well and serve up as a liquid treat, OR pour into your favourite mold and freeze for a yummy frozen treat.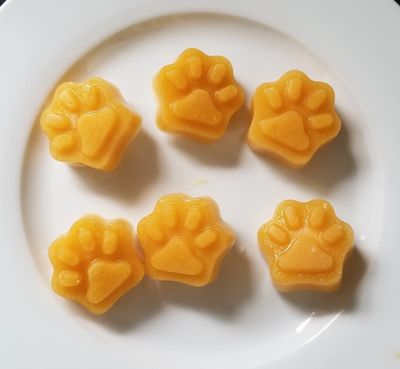 Pure Pumpkin Puree
Preparation Instructions
Preheat oven to 375 degrees.
Slice the pumpkin in half, crosswise through the stem, and scoop out the seeds and strings. Feel free to keep the seeds for later to roast.
Place halves, cut-side down, onto a baking sheet lined with aluminum foil.
Roast, uncovered, for 40-60 minutes, or until tender.
Once you have the pumpkin roasted and cooked through, it's time to turn it into puree. Cooked pumpkin is already very soft and can be mashed by hand using a potato masher or fork to turn into a puree, but I prefer to use a food processor or blender.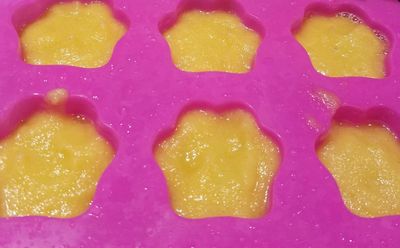 Pumpkin Flax Dog Treats
Ingredients
1/2 cup of pureed pumpkin (canned or fresh)
2 tablespoons of coconut oil, softened
4 tablespoons of water, plus more if needed
2 cups of whole wheat flour (or spelt or brown rice flour)
1 tablespoon ground flax meal
1 teaspoon of cinnamon
1/4 teaspoon baking soda
1/4 teaspoon of baking powder
1 egg
Directions:
Pre-heat oven to 350 degree F.
Mix the pumpkin, softened coconut oil, and water together in a large bowl.
Then mix in the flour, cinnamon, baking soda, and baking powder
Mix it a bit and then stir in the egg.
Continue to stir until it's ALL combined. This might take a good minutes and feel free to add a touch more water in order to get all of the mixture into one solid, slightly sticky ball.
Once done, roll the dough out on a floured surface to ~1/4 inch thick.
Using a cookie cutter, cut out treats. These can be as small or as large as you want them (depending on the size of your dogs. I realize not everyone has giant dogs like me)
Place prepared dough treats on a lined/ greased baking sheet and bake for ~30 minutes (depending on size) or until dough has hardened.
Let cool and enjoy your pups excitement!